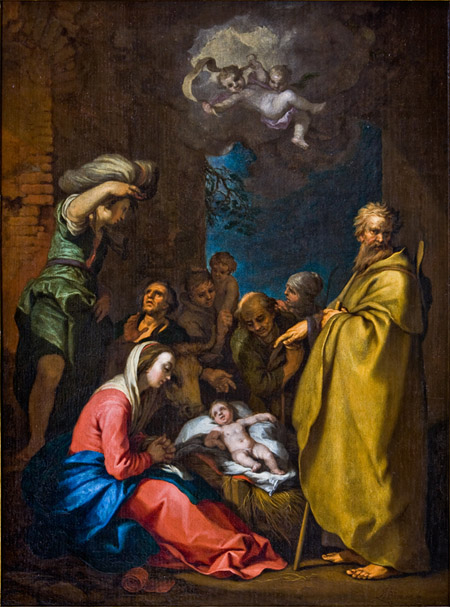 Abraham Bloemaert:
The adoration of the shepherds
1634, oil on canvas


Abraham Bloemaert
Gorinchem, 24 December 1564
– Utrecht, 13 January 1651.
Abraham Bloemaert was born in Gorinchem on 24 December 1566. From 1569 he lived in a house halfway down the west side of the Boerenstraat. He is called the Father of the Utrechtse School (Utrecht School), an art movement that was especially well known between 1620 and 1630.

Bloemaert had many students, such as Gerrit van Honthorst, Hendrick Terbruggen, Jan van Bijlert, Cornelis van Poelenburg and Jan Both. Bloemaert painted in many different styles, like the Mannerism that was very popular in Haarlem around 1600, with Cornelis van Haarlem as the most important example. After the return from Italy in 1620 of Gerrit van Honthorst, amongst others, Bloemaert started to paint in the style of Caravaggio as well.

Especially his paintings of the adoration of the three kings or wise men and the adoration by the shepherds have become world famous. A painting that is attributed to Bloemaert hangs in the Gorcums Museum. Many of the works of Bloemaert can be found in famous museums such as the Centraal Museum in Utrecht, the Mauritshuis in The Hague, the Louvre in Paris and the Metropolitan Museum in New York City.